To date I have given recognition to Pool Manufacturers, Tile companies, and other major players within our business. The time has come for the most important recognition of all; the team that makes Artistic Pools who we are. Below you will find a complete company profile listing duties performed by our team along with contact information for those who work within our organization. Without these most important team members our company would not be who we are today and that is one of the most well respected and most recognizable Fiberglass Pool Distributors and Dealers on the East Coast.
Mark Peditto: President and Co-Founder of Artistic Pools Corp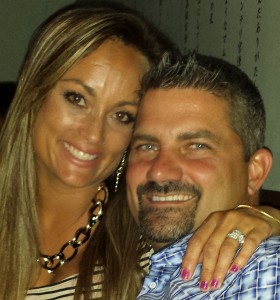 Mark Peditto is a graduate of Bloomsburg University where he graduated with a degree in Elementary Education and a minor in Business. Mark spent many years in the concrete business before turning his interests into fiberglass swimming pools back in 2001. Since then Artistic Pools has become one of the most decorated fiberglass pool distributors and Installers on the east Coast. I would have to say my two biggest accomplishments in life is my wonderful family Jenea, Gianna and Tyler as well as the fine Artistic Pools team that has been built over the years.
Duties: Mark Handles Website Development, Our Swimming Pool Depot, Pool deliveries, Service and all scheduling for pool installs. Mark is always available through email and cell phone any time of the day.
Contact Info: Cell 609-352-7069 email: mark@artisticpools.us
Jenea Peditto: Group Administrator

Jenea Peditto is a graduate of Burlington County College. Pictured above is my wonderful family Jenea, Gianna and Tyler. This is the main reason I go to work everyday. Jenea is a stay at home mom now taking care of our everyday operations of pulling permits and to answer any general questions pertaining to your pool permit process. We work very well together to make sure our swimming pool projects run smoothly. Take a look at Jenea's Article on the Swimming Pool permit process here!
Duties: Pool permitting, General Questioning, Pool setback info and TWP info.
Contact Info: 856-755-1642 Email: jenea@artisticpools.us
Mike Neri: Vice President and Co-Founder of Artistic Pools Corp
Mike Neri who is the Vice President and my Partner in Business. Mike brings a wealth of knowledge and business skills to our company. Mike is a hands on Owner unlike other pool companies. Mike is present on every Job. Mike has been Stamping concrete for over 20 years now and is one of the pioneers here in New Jersey being one of the first to endeavor into the Stamped Concrete Industry back in 1990. I have to Say most partnerships in business fail for some reason or another. Our partnership started as a friendship back in the early 90's and has developed into a well respected business partnership and has continued to prosper due to like minded goals and aspirations. He is one of the hardest workers I know and treats every pool build as if it was his own.
Duties: Pool Installation, Concrete Mason, 3d Pool Designer, Runs the construction Dept.
Contact Info: 609-685-0616 mike@artisticpools.us
Rick Thurman: Depot Manager
Rick Thurman is the man who makes our pool depot Run. Rick has been with Artistic Pools for nearly 7 years now and has been one of our most dependable team members since joining our team back in 2004. Rick brings a wealth of knowledge to our Crew being a previous Tile installer and Crane operator in his earlier Years. Rick runs a crew of three guys including his Son Ricky who aids in tiling and loading of all our pools. They both are responsible for getting our pools built prior to the installation. They install the skimmers, Main Drains, Returns and Lights prior to the pools leaving our depot yard. Ricky is an avid Phillies Fan who listens to just about every phillies game on the radio throughout the Season. He is our Mr. Dependable when needing things to be done on a hunch. We really value his loyalty and Dedication to our company.
Duties: Tiling of Pools, Off loading and Loading of Pools, Crane Operator, and general yard maintenance
Mike Sr. Concrete Foreman
Mike Sr who is Mike the owners Dad is responsible for setting all the concrete forms for all our concrete Jobs and is responsible for overseeing the dig for our pool projects. Mike Sr is in the hole directing the Dig while using a transit to make sure all our pools are level before water and back filling begin.
Duties: Concrete Foreman, pool crew

Kevin Thurman: Plumber, Tile Installer, Pool crew Manager, Service Technician
Kevin Thurman has been with Artistic Pools since the very beginning. Kevin is another what I like to call Jack of all trades. He is responsible for Plumbing all of our pools. He works in conjunction with our swimming pool crew. Kevin is a Master Plumber. He sets all of our pool equipment up. He is responsible for building the Pump, Filter, Salt Water System, Heaters, Led Lighting and making sure everything is pressure tested prior to filling the pool with water. Kevin Also runs our Service department. He is one of the guys you will see opening or Closing your swimming pool. Kevin Also has been tiling our pools for nearly a decade. He has hands of steel and has been one of our primary go to guys in dealing with everyday tasks and pool building. He has been a great friend and a wonderful worker throughout his many years with our company.
Duties: Tile Installer, Pool Plumber, pool crew Manager, and service Technician
Contact Info: 609-864-5714 kevin@artisticpools.us