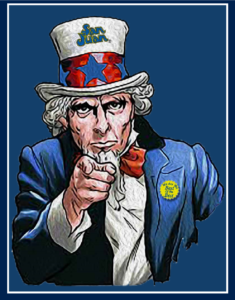 DIY Fiberglass Pools…You can do it.
Welcome to the San Juan DIY Fiberglass Pool Program offered through the Northeast Distribution facility in Cinnaminson NJ.  Here you will discover just how easy it is to manage your own Fiberglass Pool Installation.  You can do it!  Below you will find installation guides, Dig Plans and some helpful Tips in Making your DIY Project enjoyable and rewarding.
Artistic Pools Corp Installs Close to 100 Fiberglass Pools a year however there are a bunch of homeowners that want to take on the project themselves.  No problem we are here to help! Lets take a look at some important factors to consider before taking the plunge of Installing a DIY Fiberglass Pool Project
Neighborhood Restrictions– Usually we do not run into any restrictions however some developments have homeowners associations that limit certain aspects of the project.
Building Codes/Permits- Make sure you pull all proper Building, Electrical, Zoning and Plumbing permits before building your own Inground Fiberglass Pool. Feel free to take a look at a previous Blog Post I wrote regarding the Permit Process.
Underground Utilities- Before you start any excavation please call in for an underground utility mark out.  In NJ we call NJ One Call.  In Pa we call PA One Call.
Job Site Access- Please plan ahead to make sure pool can be brought to the back yard with an excavator or if a crane will be needed due to limited access.
Heavy Equipment- Installing a pool project will require the use of heavy truck to haul dirt away and bring in stone for backfill.  Can the trucks make it to the backyard? Will everything need to be shuttled in by a skid steer machine?  If so…. prepare for the project to take a bit longer than usual.
Selecting the Pool Site- This is always a critical part of the project.  Many factors go into determining the best and most suitable location for your DIY Fiberglass Pool Install.  Try to place the pool where it's going to be in the Sun and not shaded unless of course your not a sun seeker like most.  Also one of the biggest mistakes you can make is putting the pool too low into the ground.  Take a look at the surroundings and put the pool at the highest point in the area so water never runs towards your pool.
Storm Water Control and Containment- We know building your own Fiberglass Pool Project is rewarding but please don't forget you have neighbors.  Take into consideration where the water from your project will run off too.  In some cases french drains or Sump systems might need to be installed to control water runoff in tight small yards.
Equipment Location- Choosing the best Location for your Pool Equipment is crucial in many aspects.  Put it too far away usually more than 25 to 30 feet you will lose efficiency when trying to heat your pool.  Put it too close and you hear the pump and heater running all the time. Put it too far away in your backyard the electrical run will cost you more money the further you go away from electrical panel.  A great rule of thumb…try to put in next to the other noise maker in your yard the AC unit.  They usually are running during the same time.
Fencing- Ask your Twp for fencing codes.  In most cases a 4′ high pool code fence is needed with a self closing, self locking gate that opens outward toward the street.  Think about your surroundings.  Do you have young children?  Does the neighbors have young children?  Do you want to fence in the yard or just the pool?  In any event please make sure a temporary safety fence is in place during construction.  Keep a safe working environment.
Electrical Panel- Take a look at your main electrical panel…. Do you have enough space to add 30 amp service without a heater or 60 amps if you do a Pump, Salt Gen, Led Lights and a heater.  If you do not have enough power for your DIY Fiberglass Pool project plan to upgrade your service prior to starting your work.
DIY INSTALLATION MANUAL–  Please read through our comprehensive Installation manual that was written by the Best of the Best San Juan Fiberglass Pool Builders in the country.  Please reach out to our VP of Sales Craig Schaal at 856-287-3222 to get a price now on your do it yourself Fiberglass Pools kit price now.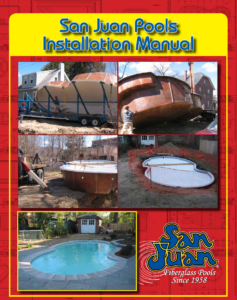 DIG Plan Book– This link is a complete line of San Juan Fiberglass Pools dig plans that is used to layout and dig your DIY FIberglass Pools project.  Please feel free to download a copy for reference.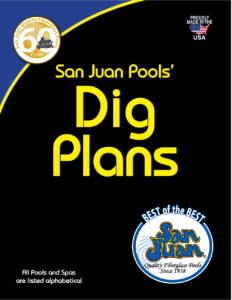 Artistic Pools offers many packages to fit your budget.  Of course of all packages the DIY Fiberglass Pools package offers the most opportunity to Save some money right?  I know your wondering how much money will I save and is it worth it.
1. Do It Yourself package for your  Fiberglass Pool project.
This is the best value option for your NJ Fiberglass Pools project where we supply the pool shell, skimmer & returns. With detailed instructions and phone support you can achieve the satisfaction of installing your own pool and save thousands of dollars at the same time. You can also purchase one of our equipment packages which will include pump, filter & maintenance items.
DIY Fiberglass Pool project Costs from our Distribution Center
Fiberglass Pool Shell (Approx 7,000-27,000) depending on Size.
Delivery of Shell from Florida (Approx 1,000-4,000) depending on location.
Pool Equip Costs (2,500 and up) plus heater, led lights, salt, water features, slides etc.
Pool Outfitting (350 to 750) At our distribution center we cut and outfit your pool … whats this mean to you as a DIY customer?  When your pool arrives to your home it will have the skimmer, 2 main drains, 2 to 3 returns and all led lights cut and installed in your DIY Fiberglass Pool.  You are ready water water.  Also since we are a distribution facility we have the luxury of flipping your pool over at our depot with a crane and delivering right side up ready for water.  No other manufacturer gives you this luxury.
NJ Sales Tax (6.85 %) on the cost of the pool shell. Yup we pay the man.  
2. Assisted Install for your Fiberglass Pool project.
We arrange for an experienced installation person to attend on the day of installation to ensure the pool is installed according to our installation guideline and thereby enabling the structural warranty on the pool shell to be granted to you the customer.
3. Basic Installation for your Fiberglass Pool project
This value option will include all of the installation work to the point of the pool full of water and circulating. Once we are finished you are free to complete the decking and landscaping.
4. Full Turnkey Installation for your Fiberglass Pool project.
We plan and design your perfect pool and carry out all of the work so you are free to be swimming in Quality & Style in as little as 1-2 weeks.
For a Complete Install Price please visit our Instant Quote Page mobile optimized.