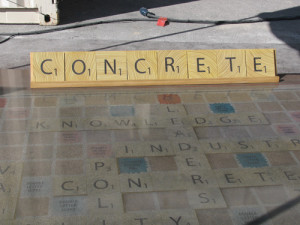 Artistic Pools transforming ordinary Concrete into a work of Art
It seems like not that long ago there was no one installing stamped concrete in new jersey. But in all reality it has been well over thirty years now. My partner and myself both come from a background in masonry. We both helped introduce stamped concrete into new jersey working for a very dear friend of ours Russ Sr. and family. It was then in the late 80's when most concrete contractors were completely scared and ignorant to this new and upcoming art of concrete. Russ was not scared. For the guys who weren't scared then, it wound up becoming an extremely lucrative decision. As long as you did good work, the state was yours for the taking. We became so busy that it made good sense to start my own business. I called it Stamped Concrete Specialists. Mark also started his soon after and called it Artistic Concrete Solutions. We then became direct competitors but still remained friends. For many years we did much of the stamped concrete decking for new jersey swimming pool companies whether it was vinyl, gunite, or fiberglass. Throughout those years, we have learned the do's and dont's when pouring stamped concrete around swimming pools. Let me share some of my knowledge with you:
Ground preparation
It is critical that the entire area being stamped ESPECIALLY where the walls have been back filled have been tamped properly; otherwise you will see a very long crack running parallel to the coping about 12 inches away after you lift your stamps from the tamping of the stamps. This will happen always if area is left un tamped. Don't forget.
Concrete mixture
Many may not realize, but this is probably the single most important part of the entire job. Ready mix companies around the state of new jersey and I am sure elsewhere use different admixtures in their concrete. We have found through trial and error what works best for us. It is very simple. First, we take all water reducers out of the concrete. This will ensure to us that when it is time to hand finish the concrete, there will be some water on the surface to help give us the smoothest finish possible. Second, the base or primary color of the job must be put into the concrete truck at the jobsite when it arrives. This eliminates the labor intensive process of broadcasting color after it has been installed. On a hot july day, my workers appreciate that very much.
Installation Process
It is extremely important during the installation you have a strong qualified crew with you. There are just too many things that must be done all at the same time. The crew should also be very efficient with their time. Because as most of us know in the industry, CONCRETE WAITS FOR NO ONE. You are alotted a certain amount of time to work with concrete. That time ranges from 45 minutes up to 3 hours depending on outside temperature. You must remember to still have enough time left over for the stamping process.
Stamping Process
Once again, a strong qualified crew is highly recommended for this stage. One man is needed to broadcast the secondary color across the decking. Two men laying down stamps. One man touching up mistakes with a roller. Two men lifting up stamps already tamped. One man tamping. Having this allows you to do large areas quite efficiently.
Final touch
In the summer, the next day is sufficient for saw cutting all expansion joints and pressure washing the decking clean. At this point, we can highlight other areas with special coloring such as the border or individual stones to give uniqueness to a job.
Seal Coating
We usually wait a day after pressure washing for the area to be completely dry. Using an airless sprayer is the way to go. This allows the sealer to be absorbed and become ONE with the concrete. A big don't is using a roller. Rolling on the sealer may look good initially, but you are asking for trouble. The laminate becomes to thick on the surface in turn causing delamination. In many cases, taking some of the surface away with it.
In closing, artistic pools corp is very seasoned when it comes to stamped concrete. There isn't a job we haven't seen or done. If there are any questions I can help with, please post them and I will be sure to answer all question relating to the Stamped concrete Industry.  To view additional posts on the Stamped Concrete industry please visit our blog or click the links to learn more:
To Learn more about the Stamped Concrete Industry you might want to look into:
     See Cantilever Coping being installed
     See Also Appalachian Cobble Stone
     See Also Regular Brushed Concrete
Concrete Color Chart by Solomon Colors