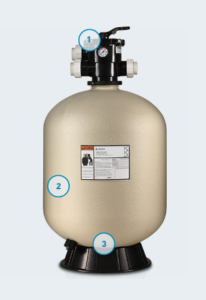 Filter Base for Glass Media Technology
Revolutionary Technology Re-defines Sand Filter Performance
Traditional sand filters can only remove particles in the 50-100 micron range, but Sand Dollar Filter with patented ClearPro Technology® removes particles up to five times smaller…to achieve 60% cleaner water than other sand filters. At the same time, Sand Dollar Filter is incredibly simple to operate and maintain. And, it's built with long-term reliability in mind. Stunning performance. Supreme simplicity. Superior value.
All the same, great features of the Sand Dollar® filters
60% greater water clarity
Note: Max water temperature for Sand Dollar 95°F
Product Components
Six-function multi-port valve for easier control of all filter functions
One-piece thermoplastic tank for strength and corrosion resistance
Combination water and sand drain for easier service and winterizing
Revolutionary Technology
Traditional sand filters can only remove particles in the 50–100 micron range. But, the Sand Dollar filter with ClearPro Technology removes particles five times smaller, well below what your eye can detect.
Stunning Performance and Supreme Simplicity
Pool filter operation doesn't come any easier. The Sand Dollar filter features a multiport valve that puts all filter functions right at your fingertips. Just rotate the handle to the desired position, and the Sand Dollar filter does the rest for sure and simple operation.
 The Use of Glass Media will make your pool Crystal Clear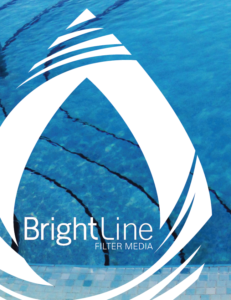 Made from 100% recycled materials, glass filter media cuts down on backwash time as well as loss of pool water and chemicals. Improves water clarity by 25% over sand. Filters down to 5 microns, unlike sand only 30 microns. Use 20% less media (by weight) than with sand. Environmentally sound and last 3 times longer than sand. Can be used with or without a pea gravel base (refer to your filter manufacturer's recommendations on media installation).
| | |
| --- | --- |
|  Sand Required |  BrightLine Glass Media Required |
|  100 lbs |  80 lbs |
|  150 lbs |  120 lbs |
|  200 lbs |  160 lbs |
|  250 lbs |  200 lbs |
|  300 lbs |  240 lbs |