1.0 HP and 1.5 HP Super Flo Pentair Pumps
Download Superflo Pump Brochure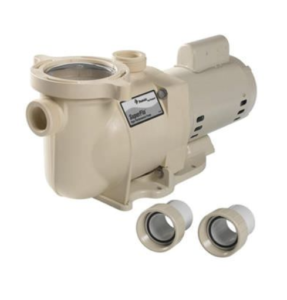 When outfitting your new pool or looking for a superior replacement for a Hayward® Super Pump®, the SuperFlo pump drops right into place with ease to minimize installation time and expense
Superior hydraulic design and thick-walled body parts deliver super-quiet operation
Heavy-duty motor for long service life.
Long Service Life
The SuperFlo pump features a heavy-duty motor for long service life. Plus, by performing with less effort, there's simply less wear and tear. That means a longer life for a higher return on your pump investment.
Superior Energy Efficiency
The innovative SuperFlo pump's ability to move more water more efficiently results in lower operating costs. And, with single- and two-speed options, there's a perfect match to your application and the assurance of minimum energy consumption.
Exceptional Durability
The SuperFlo is designed with innovative materials that will stand up to the most demanding installations and conditions. And, it's performance and pressure tested to ensure superior quality.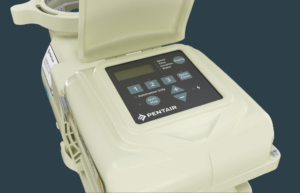 Pentair Variable Speed Pump
Download Variable Speed Pump Brochure
OVERVIEW
The Perfect Pump for Everyday Pools Requiring Up to a 1.5 Hp Pump
SuperFlo VS pumps slash energy costs by up to 80%*, compared to conventional pool pumps. With premium features like a 24-hour real-time clock and an intuitive interface that displays watts and RPMs, they're easy to program and operate. With the SuperFlo VS pump, you can enjoy big savings on your utility bill. Perfect for new and standard pump replacement applications. No other company can match our proven, in-field performance and reliability, so you can count on years of long, dependable service. No wonder we outsell all other variable speed pumps.
Only variable speed pump on the market today with 115/208-230V and 50/60 Hz single phase capability. Operating nominal voltage range is 110V thru 230V
Ideal for standard pools requiring up to 1.5 HP pump
Three operating speed settings plus override capability
Direct and superior drop-in replacement for the Hayward® SuperPump®
An Eco Select® Brand product: one of Pentair's "greenest" and most efficient choices
* Savings based on variable speed pump compared to a single-speed pump running 12 hours per day at an average of $0.16 per kWh in a 20,000 gallon pool. Actual savings may vary based on local utility rates, pool size, pump run time, pump horsepower, pump rpm, plumbing size and length, pump model, service factor and other hydraulic factors.
Hayward® and Super Pump® are registered trademarks of Hayward Industries, Inc.
Product Components
Built-in, real-time, 24-hour clock
Intuitive, easy-to-use interface
Display shows watt use and other key operational information
Wiring compartment is easy to access
Easy on Your Ears
The ultra-quiet totally enclosed fan-cooled motor barely makes a whisper and virtually eliminates unpleasant, high-pitched noise.
Remarkable Energy Savings
The SuperFlo VS pump features variable speed technology, which dramatically reduces energy costs by moving water more efficiently at lower speeds. You can save as much as 80%—up to $1,300 each year—compared to conventional, single-speed pumps.